Damaraland and Kaokoveld is a vast area in north-western Namibia, stretching from gravel plains surrounding the Spitzkoppe all the way to the Kunene River. The northern part is more commonly known as Kaokoveld, while the southern parts are referred to as Damaraland, but the entire area is predominantly defined by arid landscapes. Despite being mostly dry, many ephemeral rivers cross this stretch of land on their way to the Atlantic coast and create habitats for an astonishing array of wildlife.

The broad open spaces of Damaraland and Kaokoveld are one of Southern Africa's last wildlife and wilderness areas, and you can still see zebras, giraffes, antelopes, elephants and even black rhinos ranging outside national parks or protected reserves. This area is also home to the famous desert-adapted elephants.
Due to the sheer size of this area, there are numerous highlights that create the overall attraction of this region:
Damaraland and Kaokoveld are among the last true wilderness areas in the world. Large parts of this area remain mostly untouched by human influence. Next to other wildlife you will have a chance to encounter desert-adapted elephants and spot the highly endangered Black Rhino here, all roaming freely in their natural habitat.
The arid landscape consisting of rocky mountain ranges, granit boulders, dry riverbeds and  gravel plains are spectacularly beautiful and seem to strech out endlessly towards the horizon.
Our favourite time to visit
At the end of the rainy season this dry, harsch landscape is transformed with many of the dry river beds still being filled with small water streams. The air is crystal clear, temperatures during the day are comfortably warm and the nights are cool, but not yet cold. For us, the months between March and July are therefore best suited to visit this area. 
One of Namibia's most recognizable landmarks, the 1728m-high Spitzkoppe rises like a mirage above the dusty Namib plains of southern Damaraland. Its dramatic shape has inspired its nickname, the Matterhorn of Africa. Next to the picture-perfect desert landscape, the granite boulders that form the Spitzkoppe mountains also boast ancient rock paintings, which can be explored with local guides.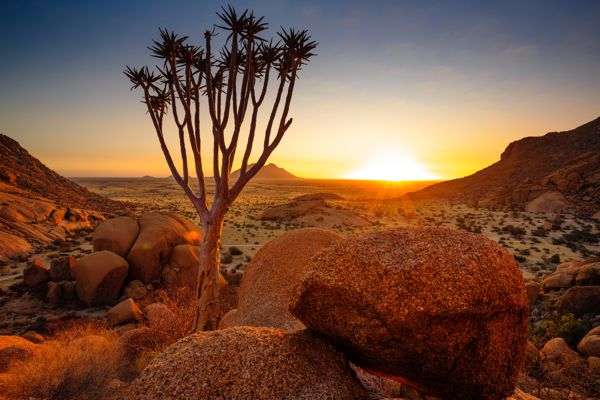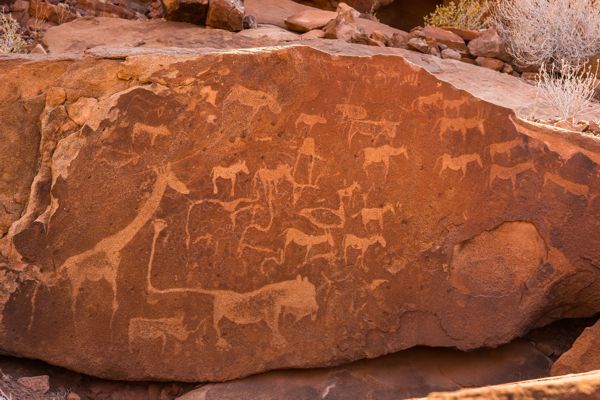 Twyfelfontein and Petrified Forest
Namibia's first World Heritage Site Twyfelfontein (meaning doubtful fountain), is a massive, open-air art gallery that is of great interest to international rock-art connoisseurs. The 2000-plus rock engravings, estimated to be 6000 years old, represent one of Africa's largest and most noteworthy concentrations of rock art.


In the ancient past, this perennial spring most likely attracted wildlife, creating a paradise for the hunters, who eventually left their marks on the surrounding rocks. Animals, animal tracks and geometric designs are well represented here, though there are surprisingly few human figures.


Close by is the Petrified Forest, where a cataclysmic event millions of years ago deposited giant tree trunks that subsequently turned to stone. Today the Namib's living fossil plant, Welwitschia mirabilis, grows among these fossilised trunks.
Incorporating the Erongo Mountains and western escarpment, the Erongo Mountain Nature Conservancy extends over approximately 200 000 hectares, encompassing one of the most environmentally diverse areas in Namibia, and including cultural artefacts such as rock paintings, rock engravings and prehistoric settlements. The region harbours high densities of leopard and brown hyena. The members of the conservancy are committed to reintroducing species that formally inhabited the area, such as black-faced impala and black rhino.


In terms of endemic species, the Erongo environment is one of Namibia's hotspots, as it hosts a vast array of endemic and near-endemic plant, reptile, bird and mammal species.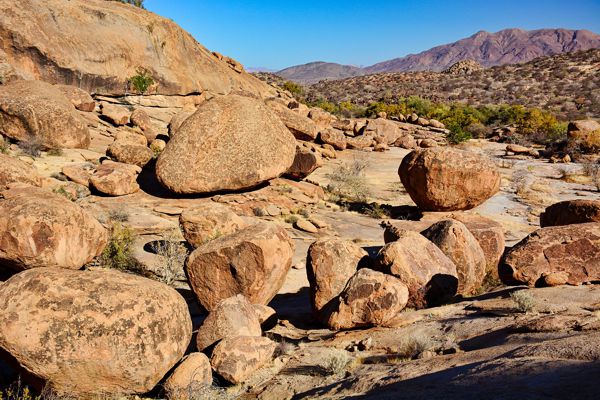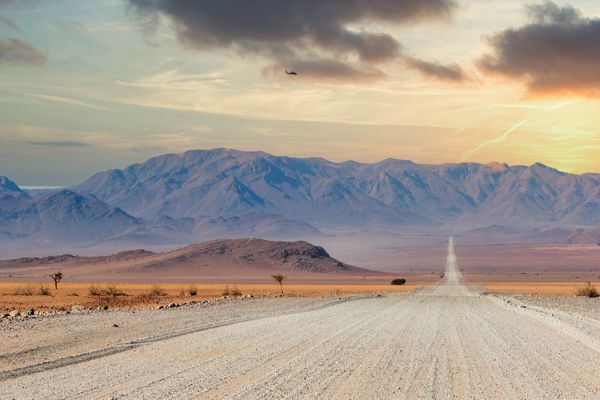 The Brandberg (Fire Mountain) is named for the effect created by the setting sun on its western face, which causes the granite massif to resemble a burning slag heap. Its summit, the Königstein, is Namibia's highest peak at 2573m.


The Brandberg is famous for the rock painting known as the White Lady, which can be seen inbetween the granite rocks in the Tsisab Gorge.
With its scenically beautiful surroundings, Epupa is one of Namibia's hidden treasures. The falls are a series of cascades where the Kunene River drops a total of 60m over a distance of about 1,5 km, separating into a multitude of channels and forming a myriad of rock pools.


Enhanced by richly coloured rock walls, variety of trees including wild figs, baobabs and waving makalani palms, spectacular sunsets and perennially flowing waters, the Epupa area offers much to see, do and experience.